Web Development
Home /
Services /
Web Development
Our agile web developers can design bespoke websites, platforms and products to meet the requirements of your business or new venture.
A Full-Cycle Web Development Company In Every Sense of the Term
Your business is unique, and your web project should be too! We work with you to craft a web experience that stands out and truly reflects the quality of your services, and products and instantly builds credibility with your potential customers, investors or employees.
Custom Website Development
We strive to develop customized responsive web development solutions. Each website we develop is truly unique, tailored to your users' needs.
Our custom web builds do not rely on templates, plugins or "found code." This allows us to provide you with a custom-built, user-friendly, stable, and reliable website.
E-commerce website
We create unique ecommerce solutions using no ready-made templates, resulting in proven SEO-, mobile- and user-friendly online shops.
Our go-to platforms also provide detailed reports and high levels of platform security. We offer online shops of varying complexity, from simple to extremely complex.
ERP Integration
ERP Integration is connecting and synchronizing your ERP software with other business applications such as eCommerce, CRM, Analytics and other data points.
We provide a full suite of ERP connectors to integrate data across your ecosystem and reduce the complexity of end-to-end integration.
Web Application
Apart from top-end software engineering, a whole lot more goes into developing and launching successful web applications. We design and create innovative, engaging, and secure web applications that are built to last.
We deliver bespoke web-based applications for companies at every stage of their growth, tailored to their specific needs.
AI Chatbot
We just don't develop chatbots, we develop an intelligent & conversational digital employee for your website!
Our digital assistants create efficient workflows by offering richer customer experiences. With rising prominence of online messaging and voice interfaces, it is noted that 35.6 million Americans use intelligent chatbot solutions to resolve their queries
Full-Stack
Developers Ready
Our full-stack web developers are at your disposal and ready to create data-driven and responsive web applications. We develop your project by implementing the latest technologies to deliver a modern and unique solution whatever your requirements. Some of the technologies we use: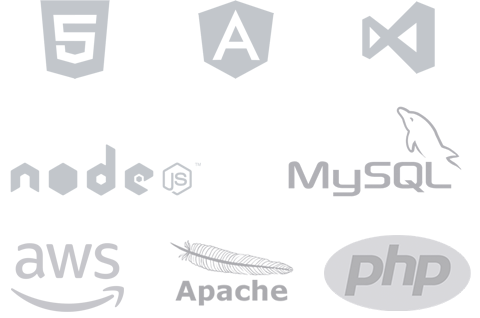 Portfolio
Some of our web development projects are listed below. We don't list our white-label web projects.
Our services are 30 days money-back guaranteed. Let's start your on-boarding.