Mobile App Development in London
Mudimedia is a fresh & vibrant mobile application development company based in the UK. It creates groundbreaking apps for emerging startups and established enterprises alike.
Contact us for a free consultancy and start a mobile app project with us.
Why Mobile App?
The appetite for mobile apps is enormous. Every single month users worldwide download a jaw-dropping 1.6 billion apps from the App Store, Google Play and other stores. That's a lot of very busy fingers and thumbs – and a lot of opportunity for ambitious businesses.
Mobile application development can be a great marketing tool and a forward-thinking way to take user experience to the next level, but it's important to do it right. Each month may see 1.6 billion downloads, but just 20% of all apps are downloaded more than 1000 times. That means that 80% of apps simply fall flat. Where's the Return on Investment (ROI)?
Why Mudimedia?
Developing an app isn't about having the latest trendy marketing tool. It's about providing value to your customers and return on investment for your business.
Usability and usefulness should be at the heart of any mobile app development project – along with a keen understanding of the demographics involved.
Just ask our professional mobile app developers. In Mudimedia, we offer smart mobile app development which provides genuine value to businesses and their visitors across the UK.
Mobile App
Developers Ready
Our expert mobile developers are at your disposal and ready to create your mobile app. We have been providing leading enterprises with advanced digital technology that transforms their business processes for almost two decades.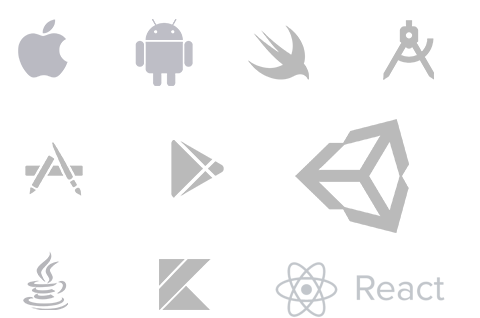 Custom Mobile Apps
Whether you're transforming internal business processes, working on an idea that will change the world, or simply increasing your company's presence in the market, custom mobile application development lets you achieve your goals quickly and efficiently.
Trusted design methodologies and high-quality processes help you maximize the value of your mobile app while ensuring you receive a feature-rich, intuitive product that users love.
Choose a long-term partner that will design, develop, and maintain your Custom Mobile Application.
E-commerce Apps
E-commerce has revolutionised the way people shop and mobile apps are increasing the convenience of online shopping. Mobile apps provide a perfect platform for personalised offers, rewards and discounts to entice users to engage more with your app.
Mudimedia is a top-notch e-commerce mobile app development company and have brought every possible functionalized and customized e-commerce mobile apps that make the purchases more accessible than ever.
Catchy design, powerful control panel and smooth operating are our main mottos.
Mobile Games
Mudimedia is one of the top mobile game companies in the UK, offering mobile game development services to clients.
We specialize in mobile app development and gamification strategies for startups and enterprise clients. Our designers and game app developers are here to help you research, find the best solutions, launch your project and give you advice whenever you need it.
Our user-centred design approach and experience in mobile app development enables us to create business products with gamified experiences and groundbreaking user engagement.
Our services are 30 days money-back guaranteed. Let's start your on-boarding.